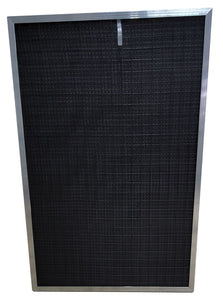 Filter
Never had time to use yet, but will let you know when do so.
Perfect
Perfect fit. Installed it to replace an old filter. Very good quality filter. Air is noticeably cleaner and flows better. The service was excellent!
Seems less than 1" thick rest of the other dimensions are perfect
Sick and tired
I couldn't find my 22×24 filters in any stores I was going online buying the crap paper filters........I can't explain ....you can hear the a/c unit is operating under much less filter restrictions also aside from the filters being washable......I bought 2 so I'll always have a clean filter......but the efficiency of the Platinum filter s I got employ static technology technology that actually attract particulates wich also will extend the life of our a/c unit but also will keep our duct work. Cleaner ......what an easy solution to conditions wich will improve air quality ....& efficiency of your a/c + heater .... these filters will pay for themselves in a very short time......next time you change your filter take a look at your paper filters.....cheap flimsy crap ..... .yes you do have alternatives and I wish I found their product years ago....
So Far So Good
We have had our new filter a short time but are very happy so far. It seems to be made very well and to our specific measurements, as it was custom made.