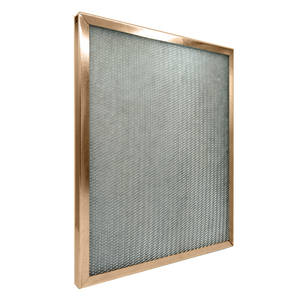 Very pleased with the filter! Would have liked to have seen it packaged a little better. Small 6" piece of bubble wrap around a 20" filter really doesn't protect much. Otherwise, filter is good, and quick delivery! Thanks!
Great quality. Custom size fit perfect. Thank you!
Great filter . Not so great custom fit .
Filter is great does its job well. Only thing is it did not want to fit in even after custom sizing . Partially my fault , Should have ordered the filter length 3/4 inch smaller rather than 7/8 inch smaller . But the width of the filter was not small enough either ( less than 10 inch) to fit in , and that is where it needed to mostly be narrower . Was not available even in custom size any smaller than 10 inch width for some unknown reason . Was custom size so figured it was non returnable so had to try to file it down with file and beat in the frame with a hammer. Barely fits in space still and needs to be put in and taken out with the help of the hammer . Hitting it in , and using the claw part of the hammer to pull it out . Think it would have gone in if the 10 inch width on the (10x20x1) filter was 1/4 inch smaller ( 9.75 x 19.75 x 1 ) . Do not want to use the disposable filters anymore as it is way more expensive to use these all year round for years as compared to the initial one time cost of the more expensive
Washable kind. Even more considering I need 2 of them .
Thanks
S.G.
Good buy
GREAT QUALITY, PERFECT FIT.
GOLD FILTER - CUSTOM SIZE